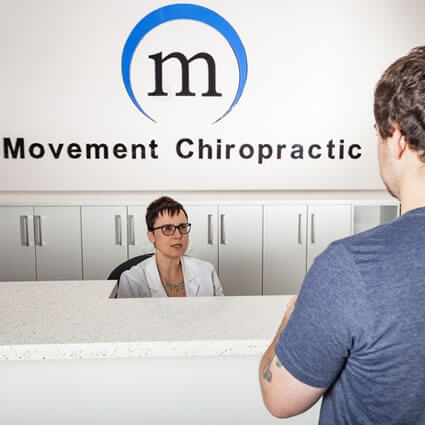 What to Expect at Movement Chiropractic
Our clinic isn't just an office with wellness services, it's a space we've created to meet you where you are at and help you achieve healthy, fun, functional movement. What started out as a team of two chiropractors has grown into a family of full service professionals passionate about hearing your story and helping you live a pain free life.
Our chiropractors, physiotherapist, and registered massage therapists work together to provide a comprehensive, holistic approach to wellness. We believe that each service on its own is only one aspect of a great treatment plan and love to work together to provide the best possible care for the best possible you.
Your First Visit
This visit is all about you, hearing your concerns and finding a starting point that feels comfortable for you to get started. Whether you are living with chronic pain or dealing with an acute injury it is important to acknowledge the effort and care it takes for you to book your first appointment, and that healing works on its own time regardless of how fast we want it to happen.
Things to Know
Bring your Saskatchewan health card
Fill out New Patient forms or have filled them out at home before coming
Meet with your practitioner who will take a history of your health
Share all of the details of your pain/discomfort/injury so we can assess and look for patterns to get a full understanding of what you are feeling, why, and how we are going to help you
X-Ray – if your practitioner feels an x-ray would help complete the process to reach a diagnosis then they will provide you with a requisition form to get one done
How Long Will My Appointment Take?
The length of your first visit will depend on the service you have booked:
Chiro: 20-30 minutes – this may or may not include an adjustment depending on initial thoughts prior to a diagnosis
Massage: 30-90 minutes
Physio: 20-30 minutes
Your Second Visit
During your second visit to our office, you will receive a report with the results of our assessment and a health care plan for moving forward.
Subsequent Visits
Once we have all the facts regarding your health issue, subsequent visits for chiropractic and physiotherapy typically take between 5-15 minutes, and massage will depend on the length of time you choose.
Do I Have to Come in for the Rest of My Life?
Our goal is healthy, functional movement and we are here to support you in that journey. Once you start feeling better you can continue the frequency of your visits if it feels like a good part of a preventative maintenance plan for you. If you feel that you want to space out your visits a lot, or pause treatments because you feel great then we support you in that, too! As a practitioner we can see when treatments are working but the greater advantage lies with you as you can feel them working. Whether you see us once a week, once a month, or once a year, we are here for you every step of the way.
Typically, we view care in three phases:
Phase 1 – Relief Care: The first phase of care is Relief Care. Our goal here is to get the problem under control and get you out of pain.
Phase 2 – Stabilization: In this stage, we correct the problem so it doesn't keep coming back. We do this by stabilizing the area using adjustments, stretching and exercise. You can book as many appointments as you need until you feel stable and pain-free.
Phase 3 – Wellness Care: In this phase people typically book a visit once a month to maintain their health and wellness, however we will never pressure you to book more often than what meets your needs best.
We're very results-oriented, so our primary goal in the beginning is to resolve your problem and get you out of pain. The second phase is to make you aware of the value of chiropractic when you use it on a consistent basis.
This phase gives you the opportunity to choose wellness and is accomplished through periodic adjustment.
The choice is yours!
---
What to Expect at Movement Chiropractic | (306) 244-6121