Saskatoon Cupping & Myofascial Release
What is Cupping?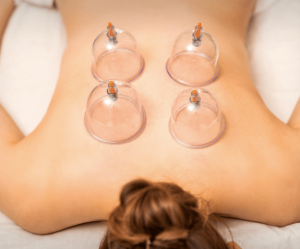 Our physiotherapist Scott offers cupping treatments at Movement Chiropractic. The treatments are 20 minutes in length. Cupping has been around for thousands of years, dating back to ancient Chinese and Egyptian medicine. The cups create a vacuum on the skin causing the tissue to stretch and blood vessels to expand.
Cupping is a form of myofascial release for our connective tissue. After the application of cupping lotion, a plastic cup or cups are placed on the area and suction is applied. This allows the skin and connective tissue to be drawn up into the cup. These cups are then dragged through the affected area allowing the connective tissue to be lengthened and stretched, releasing adhesions in the muscle, fascia and connective tissue.
Myofascial Treatments
Scott also offers myofascial treatments for anyone who has tissue pain, discomfort, tension, injury, and tightness. The treatments are 40 minutes in length and focus on muscle techniques such as relaxation massage, deep tissue releasing, passive stretching, trigger point release, lymphatic flushing, and percussive devices.
Myofascial Cupping Benefits
Some benefits of myofascial cupping and treatments include:
 Reduced stress and muscle tension
Increased relaxation and muscle knot release
Relief from cramps and muscle spasms
 Release of restricted connective tissue
 Increased blood circulation and oxygen
 Increased range of Motion
 Decreased adhesions and swelling
 Soften scar tissue (including post burn injuries with skin grating and post surgery incisions)
Decreased pain and toxin release
Does Myofascial Cupping Hurt?
Some patients are concerned that myofascial cupping hurts. Depending on the amount of restriction in and adhesion build up, treatment may be painful and there may be some bruising. This will vary from patient to patient and on the specific area being treated. Treatment is always modified to patient comfort.
Is Cupping Safe?
Certain conditions including joint instability, arthritic or autoimmune disorders and neuropathies are contraindicated to cupping. Factors such as degenerative changes, possible pregnancy and pre-existing medical conditions will determine whether cupping is safe for the patient. Our physiotherapist will have you fill out a complete medical history that will be reviewed and discussed with you prior to treatment.
Clinic Hours
Monday
10:00 am – 7:00 pm
Tuesday
8:00 am – 7:00 pm
Wednesday
8:00 am – 7:00 pm
Thursday
8:00 am – 7:00 pm
Saturday
9:00 am – 5:00 pm
---
Myofascial Cupping Therapy Saskatoon SK | (306) 244-6121