Meet Scott Golding
BScKin, MPT, Pelvic Health Physiotherapist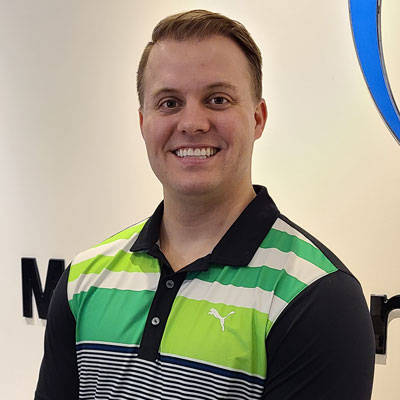 Scott has a passion for physical fitness, wellness, and educating his patients on living a pain free life. He loves being a physiotherapist and feels so fortunate to assist others on their health and wellness journeys.
Education & Training
Scott completed his Bachelor of Kinesiology with Distinction (2013) and Masters of Physical Therapy (2016) at the University of Saskatchewan. During his University years, Scott worked as an athletic trainer with the Huskies cross-country team. Moving to Lloydminster, Alberta in 2017 he joined the CBI Health Centre. While in Lloydminster Scott gained experience in Orthopedics, Pelvic Floor, Concussion therapy, WCB, SGI, short, and long term disability. Scott has extensive knowledge and experience in orthopedics, sports injuries, chronic pain, concussion, and pelvic floor health for men and women. He is highly trained in pelvic floor therapy having received his Level 1 (2016 – University of Saskatchewan), Level 2 (2018 Pelvic Health Solutions), Level 3 (2018 Pelvic Health Solutions), innovative exercise for the sensitive nervous system (2019), and male pelvic pain (2019) credentials. Scott has treated a wide variety of conditions from incontinence, prolapse, pelvic pain, pelvic floor tightness, hip pain, back pain, bladder pain, prostatitis, erectile dysfunction, and sexual intimacy problems.
Scott is driven to provide excellent care in a safe and comfortable environment for his patients.
Virtual Physiotherapy
appointments are available.
Movement Chiropractic Physical Therapy Services
Orthopedics
Musculoskeletal injuries
Sports injuries
Back pain
Concussion
Pelvic pain
Prolapse
Incontinence
Life Outside the Office
When Scott is not in the clinic, he can be found following his favourite sports teams, working on his fitness goals, and travelling with his wife Kayla.
Get Started Today
Scott Golding is here for you! Contact us today and let's get started!

---
Scott Golding, Physiotherapist | (306) 244-6121