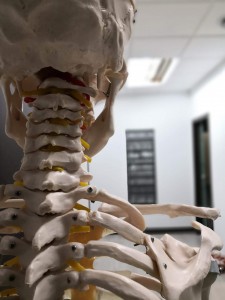 Multidisciplinary health care teams provide patients with a high standard of care and success when it comes to recovering or improving their health. The World Health Organization (WHO) recognizes the importance of collaborative health care services in providing high quality health care across clinical settings (1). Within the discipline of musculoskeletal rehab, some of the primary health care practitioners are physical therapists and chiropractors.
What Do Physical Therapists Do?
Physical Therapists provide services to develop, maintain and restore maximum movement and functional ability (3). They will use exercise prescription, education, and hands on techniques in their delivery of health services. Chiropractors relieve pain and help to restore normal movement and function of the body through manual therapy skills, in other words, mobilizations and manipulations.
How Do You Treat Musculoskeletal Injuries?
Musculoskeletal injuries can be complex and can lead to other issues throughout the body, therefore, it is beneficial to have input and direction from professionals with experience in both disciplines. Chiropractic and Physical Therapy patients benefit from their clinicians using their complementary skill sets and expertise to relieve aches, soreness and discomfort; restore normal movement; and maintain pain free living.
Multidisciplinary Interventions Improve Quality of Life
In a study conducted by the University of Iceland, School of Health Sciences it was found that multidisciplinary interventions improved quality of life and decreased pain intensity among women with chronic musculoskeletal conditions, with lasting effects observed half a year after treatment completion1.  The Journal of Occupational Therapy published an article in 2017 concluding that multidisciplinary rehabilitation programs help to improve pain, disability and facilitate a return to work or pre-injury activity (2).
Multidisciplinary Care at Movement Chiropractic
Movement Chiropractic offers Chiropractic, Physical Therapy, and Massage Therapy services as part of a multidisciplinary health care approach. Some of the conditions for which our Physical Therapist and Chiropractors have successfully combined treatments include, but are not limited to:
Post operative rehabilitation;
Back and neck pain;
Upper body pain (shoulder, elbow, wrists, hands);
Lower body pain (hips, legs, knees, ankles, feet);
Acute injury management;
Chronic injury management;
Conditioning and performance;
Preventative therapy and maintenance;
Work related injuries and motor vehicle accidents.
To make an appointment and begin your care, fill out our form or give us a call at (306) 244-6121.
References
Bjornsdottir, S. V. (2017). Chronic Musculoskeletal Pain Prevalence, Impact and Multidisciplinary Treatment in Iceland . University of Iceland School of Health Sciences, 1-145
Bean, A., Edmonds, C., Lin, T., Davis, R., Hopcroft, L., Savona, A., Singh, G., Boccia, K., Leming, K., Mann, H., & Razmjou, H. (2017). Effectiveness of a Multidisciplinary Rehabilitation Program Following Shoulder Injury. The Open Journal of Occupational Therapy, 5 (3
Gemma Victoria Espí-López, P. P.-G.-B. (2017). Effectiveness of Manual Therapy Combined With Physical Therapy in Treatment of Patellofemoral Pain Syndrome: Systematic Review. Journal Of Chiropractic Medicine , 139-146.
&, R. B. (2016). Multidisciplinary Intervention in Patients with Musculoskeletal Pain: a Randomized Clinical Trial. International Journal of Behavioural Medicine, 1-11.